Bounce rate vs exit rate: If your company has a website, it probably measures the activity of its site through several performance indicators. One of the most well-known indicators is the bounce rate.
According to SEMRush, the bounce rate is the 4th criterion that has an impact on the positioning of your site. The lower your bounce rate, the more likely your site will appear in the first results of search pages. It is therefore one of the key factors to allow your website to progress in the rankings of the various search engines (Google, Yahoo etc.)
In this article, I will break down the bounce rate in detail and explain it to you so that you can make improvements to your site if necessary. To help you see things more clearly, here is a summary of the topics I will be discussing today.
1. WHAT IS BOUNCE RATE?
First of all, let's clarify this notion of "rebound". The bounce action means that an Internet user has viewed only one page of the site on which he landed. In other words, the latter did not perform any additional action on the link's destination page.
After viewing a single page, he leaves it, either by closing the browser window, returning to the previous web page, or clicking on an external link that takes him to another website.
You can find your site's bounce rate in your Google Analytics account. I will explain the procedure to you later.
1.1 WHAT IS EXIT RATE?
What is exit rate then? Suppose a visitor lands to Page A of your website, and reaches Page B, after reaching Page B the visitor exists your website. In simple words, from the page a visitors leaves your website. This last page will be considered as the exit page for this incident and it will contribute to calculate exit rate.
1.2 DIFFERENCE BETWEEN BOUNCE RATE AND EXIT RATE
Bounce rate is always calculated on a single page, the page that the visitor enters the website (first page). Whereas, exit page is the last page the visitor visits before leaving the website.
Bounces always take place on the first page a visitor visits, however, exit can happen after multiple page visits.
A high bounce rate indicates the visitor was not happy or didn't found the page relevant to what he was looking for or poor content quality.
A high exit rate is not necessarily means high bounce rate, because the users are maybe visiting other pages of the website (as it is not the first page a visitor visits).
Exit rate can be either positive or negative, depends on the page the visitors are exiting (e.g. if it is a thank you page then it is positive).
2. HOW TO CALCULATE THE BOUNCE RATE?
We know that the bounce rate is an indicator that measures the proportion of Internet users who left your website having seen only one and only one page. It is therefore calculated by dividing the number of sessions with a single page view by the number of total sessions. The result is then multiplied by 100 to obtain a percentage.
Let's take a concrete example to make it clearer. If your site sees a number of visits of 1000, and the number of visits with a single page view is 540, then the bounce rate of your site will be 54%.
If you don't want to calculate your bounce rate yourself, Google Analytics does it for you!
3. WHAT IS A GOOD BOUNCE RATE?
My clients often ask me the question "what is a good or a bad bounce rate?" Even if the most relevant answer is often "it depends", averages have been made according to the different types of industries.
For example, Brafton.com has established that the average bounce rate of sites is around 58.18%. However, the statistics vary greatly depending on the target clientele and the industry of the website analyzed. Thus, a company with a B2C clientele will have a bounce rate close to 54% while B2B will have an average bounce rate of 61%, or 6 additional percentage points.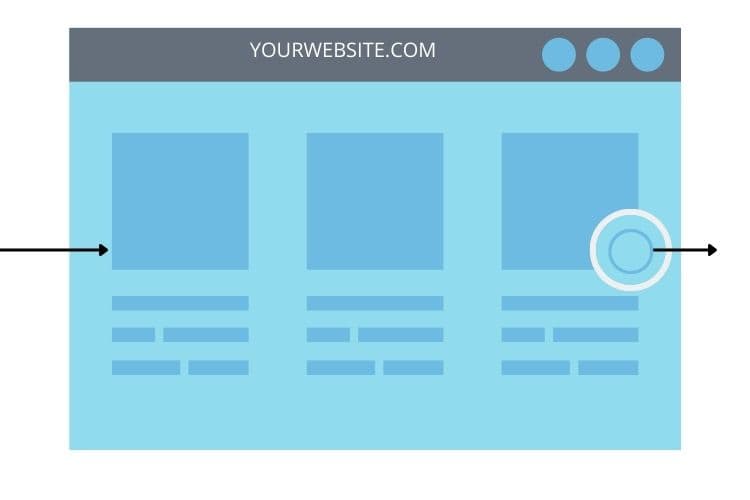 Same thing depending on the industry, it is better to work in financial services than in consulting to hope to have a rebound rate in the lowest of the market.
4. HOW TO FIND YOUR BOUNCE RATE ON GOOGLE ANALYTICS?
Bounce rate is a key metric. It is therefore found in several places in your Google Analytics account which will allow you to better analyze your performance and interpret the statistics.
4.1. IDENTIFY YOUR WEBSITE'S GENERAL BOUNCE RATE
Once connected to your Google Analytics, the bounce rate will be displayed from the home page. The latter corresponds to the general bounce rate of your website. It takes into consideration all the pages of your site over the chosen duration.
This statistic is interesting but doesn't mean much without context and more specific information. Note that the bounce rate statistic is found on all reports offered by Google Analytics. Here is an example for the Google Analytics Audience Overview report.
Again, this is the general bounce rate of your site. To have more relevant and more precise information, it is better to analyze your bounce rate in more specific reports such as audience reports, conversions, acquisition, etc. By the way, if you want to know more about analyzing your web traffic with Google Analytics, we have made an article on the subject.
4.2. GO FOR A MORE GRANULAR BOUNCE RATE
In each of the Google Analytics reports, you will find a column indicating the bounce rate according to the dimension you are analyzing. For beginners, the dimension is usually the element listed in the first column of the Google Analytics table you are analyzing.
4.2.1. BOUNCE RATE BY COUNTRY
Here is an example of bounce rate by country (Audience » Geographic data).
The country is the dimension, we find the general bounce rate at the top of the column of the same name as well as the detail of this rate by country. This helps to better understand where to optimize the bounce rate.
In this specific case, the bounce rates of the different countries are very correct but imagine that the bounce rate of Canada is at 80%. This would mean that Canadian Internet users do not find the content sufficiently relevant and the site would have to be reworked to encourage Canadian Internet users to visit several pages of the website.
You can then redo the previous exercise for all the reports you want.
4.2.2 BOUNCE RATE PER PAGE
If you want to know the bounce rate on each of your pages, go to "Behaviour" then "All pages". You will then find a list of all the pages on your website with many statistics, including the bounce rate.
4.2.3. BOUNCE RATE BY ACQUISITION CHANNEL
If you want to push the analysis even further, by going to "Acquisition", then "All traffic" and finally "Channels", you will find the bounce rate of each of the different acquisition channels. This view is particularly interesting to see the success of your traffic acquisition campaigns.
Imagine that one of your advertising campaigns has a bounce rate of 90%, this means that there is clearly a problem between the message of the advertisement (what the Internet user expects to find) and the content of the page.
Now that you know that the bounce rate is present on many pages of your Google Analytics account, do not hesitate to dig into the recesses of your account. And especially to take a step back. You will surely come across figures that will allow you to analyze your bounce rate even more precisely.
5. HOW TO ANALYZE A HIGH BOUNCE RATE?
In general, your site's bounce rate will be either "low" (below 40%) or "high" (above 50%). If your site is in the first case, then it's perfect. Congratulation!
Otherwise, you need to take a step back to analyze this number. But don't panic, a high bounce rate doesn't necessarily mean your website is performing poorly and is good to throw away.
5.1. TO INTERPRET YOUR BOUNCE RATE, THINK ABOUT THE NATURE OF THE WEB PAGE OR YOUR WEBSITE
The interpretation of the bounce rate depends above all on the nature of your website and the objectives of each of its pages.
Here are some numbers related to the bounce rate depending on the type of site:
Several interpretations are possible if your bounce rate is high.
A high bounce rate may mean that the user got the information they were looking for quickly. This is often the case with dictionary websites or articles aimed at answering a specific question. In a few seconds, the information sought is found. The Internet user then leaves the page without consulting other pages of your site.
This does not mean that the page is not efficient, quite the contrary!
Now imagine that your goal is to generate as many calls as possible. If you reach your goal, the user may land on your content and call you immediately. Your site will perform extremely well, but your bounce rate will be high.
Conversely, a high bounce rate can be worrying if Internet users do not find the information they expected when landing on your page.
5.2. COMPARE MULTIPLE METRICS TO YOUR BOUNCE RATE
The bounce rate is a statistic that cannot be analyzed "by itself". It compares to other metrics. You can compare the bounce rate with completely different metrics as I detail just after or you can also compare the bounce rates of different sections of your site (as explained previously).
5.2.1. BOUNCE RATE AND SESSION DURATION
To get started, take the time to compare your bounce rate to the average session duration. This will let you know if your content is of interest to Internet users or not.
For example, if your bounce rate is high and the duration of your sessions is also high, the most logical interpretation would be that your Internet users take the time to read your content, so that it interests them.
On the other hand, it also means that once they consume your content, they leave your website. It will therefore be necessary to develop your content in order to encourage Internet users to contact you, to buy or to visit other pages if that is your objective. For this you can consider adding calls to action on your page.
On the other hand, if the duration of your sessions is short, this implies that the content was not relevant to the Internet user and that the latter left the page almost instantly. It will therefore be necessary to review the content of the page.
5.2.2. COMPARE BOUNCE RATE PER PAGE
As mentioned earlier, your site's general bounce rate is not necessarily representative of the behavior of Internet users when browsing your website.
Many SEO statistics show that it is important to compare the bounce rates of each of your pages.
Say your website has 100 pages, and 80 of those pages have a 40% bounce rate (which is pretty good) and the other 20 have a bounce rate of over 70%. So it is obvious that the general bounce rate of your site will be impacted.
5.2.3. SEGMENT YOUR BOUNCE RATE AS MUCH AS POSSIBLE
I detailed earlier how to find the bounce rate on Google Analytics in the different types of reports: country, page, acquisition channel.
When the bounce rate of a site is too high and we seek to optimize it, the reality is that it must be analyzed from every angle. Spend some time in Google Analytics and compare all segments:
Navigator
New visitors VS recurring
Genre
Age
Devices
Landing pages
Google Analytics gives you access to a lot of data, it's up to you to explore and analyze it. If you need help with this, please don't hesitate to contact us. Our team will be happy to help you lower your bounce rate.
6. HOW TO REDUCE A HIGH BOUNCE RATE?
A high bounce rate is not dramatic as long as it can be reduced. It is even a good avenue for improvement to consider when you want to improve your natural referencing or the results of your advertising campaigns. Let's see how to communicate the keys that will help you reduce the bounce rate on your site.
Search Engine Journal has a complete guide on how to reduce high bounce rate, you can refer that.
6.1 OPTIMIZE YOUR TITLE AND META DESCRIPTION TAGS
The title and meta description tags are the first elements that the Internet user will see once his request has been made in the search engine. If these elements have nothing to do with the content of the page, it's a safe bet that the user will leave your site immediately. By clicking on your link in the results of Google, the Internet user expects to find relevant and consistent content with the title and description he has read. So make sure that the content of the page is consistent with the keywords on which the page is positioned.
6.2. POSITION YOUR EXTERNAL LINKS WISELY
Although they direct your visitors to other sites, external links, also known as backlinks, are very useful for the success of your website. They enrich your content, offering additional information to your visitors and help increase your domain and page authority.
When posting content on your website, try to create fairly long content because on average, long content receives over 77% more backlinks than short content.
However, you should use these links sparingly, and place them judiciously in your text. It is more relevant to insert them in the middle or even at the end of the content rather than at the beginning, where you invite the Internet user to leave your site before even having read your content. We also advise you to open your external links in a new tab so that the user can continue reading on your site.
6.3. INSERT RELEVANT INTERNAL LINKS
To encourage your visitors to explore your site even more, do not hesitate to integrate some relevant internal links to the page consulted. In addition to the fact that they help reduce the bounce rate, internal links make it easier for your users to navigate, while offering them additional content. These are very powerful tools that improve the natural referencing of your website.
Regarding their placement, like external links, prefer a position in the middle or at the end of the content of the page, so as not to shorten the consultation of the initial page.
6.4. SPEED UP THE LOADING TIME OF YOUR PAGES
Page load time is one of the main causes of a high bounce rate. It is estimated that 53% of Internet users leave a website if it takes more than 3 seconds to load. So be sure to test and improve the loading time of your pages. For this, you can use Page Speed Insight. This will allow you to make sure that the problem does not come from there.
6.4. INSERT CALLS TO ACTION
Calls to action , or Call To Action are buttons or forms installed on a website, which encourage the user to take additional action. Filling out a contact form, sharing an article on social networks, writing a comment or even reading an article related to the page consulted are all actions that your Internet user can perform and which will reduce their chances of a rebound.
6.5. IMPROVE THE USER EXPERIENCE OF YOUR WEBSITE
Another reason for a high bounce rate is poor user experience. An outdated design, an overload of advertisements, spelling errors are all elements that taint the aesthetics of a website and scare away Internet users.
So be sure to take care of the appearance of your site in order to inspire confidence in Internet users and make their experience as pleasant as possible. Walk around your site as if you were one of your customers and analyze your experience (blocking elements, advertising, pop-ups).
6.6. BRING VALUE TO YOUR CONTENT
It is essential that after reading one of your articles, your Internet user has retained elements that will help him in his professional or personal life. To do this, give advice, talk about your experience or elements that have marked you. You can even give your point of view, but be careful to remain as objective as possible.
By adding value to your content, your business and your website reap many benefits. First, you will show your customers your knowledge and professionalism, while successfully differentiating yourself from your competitors. In addition, the more directly you speak to your customers, the more they will trust you.
Giving added value helps to retain your audience, and this loyalty will lead to a decrease in the bounce rate of your website.
THE BOUNCE RATE, AN ESSENTIAL ELEMENT?
What you need to remember from this article is that the bounce rate is a very useful performance indicator for your website, provided that it is interpreted correctly. We should not draw too hasty conclusions but rather compare this rate to other indicators. This will allow you to better judge the quality of your site, and to understand the impact of your website on your bounce rate.
By following the advice of our experts, you ensure the optimal development of your website, by reducing its bounce rate.