Several golden rules are there to achieve SEO and customer satisfaction. Here are 10 copywriting rules (golden rules of web writing) that every copywriter should follow.
Ten golden rules to follow to be an effective web copywriter, achieve your SEO goals and satisfy your customers.
Writing for a print magazine and for web media is different. They both have their own readers and own marketing styles. To be effective on internet you must rely on some copywriting rules specific for web media.
Aim of the maneuver: inform, convince and improve its natural referencing. Update on the golden rules of web writing.
Top 10 Copywriting Rules:
Define your goals
Meet the expectations of your target audiences
Have a web editorial chart
Keep it concise, avoid web jargon
Write for SEO
Where to put Key information
Write short and simple sentences
Personalize the information according to your target audiences
Make your website lively
Watch out for spelling mistakes!
1. Define your goals
If you are a copywriter or want to be one, you will be writing contents on behalf of a client or a business entity.
If you are writing to rank your content on search engines then you should know your client very well.
You should know your client's business and its target audience.
Set your goals; choose the right keyword to target appropriate audience. If your keywords are not for the target audience, chances of success are very less.
Example: My client wants to sell pet foods.
Examples of key words to favor: pet foods; buy pet foods. But I need to have keywords that target specific products: Food for puppies, food for Labrador, best food for Boston Terrier (I am talking about long tail keyword).
2. Meet the expectations of your target audiences
You already know your products and your target audience. You have already defined them at the time of setting your goals. Now you need to draft your message to your audience.
Internet users, most of the time busy with other schedules, should find the information quickly.
And to meet the expectation / fulfill search queries you should know user intent. Now to be successful on meeting expectations you need to furnish quality information.
By quality information I mean well written, elaborated but not elasticized, informative and with examples. It should be easy to understand.
Forget keyword density. Write quality content that solves the audience's issue. If the content is not what the reader is looking for then it is not meeting expectations. Quality of content is always primary in copywriting rules.
Do not forget that you are writing educate /inform the audience about your business / service. Avoid too much of self-promotion and advertising.
3. Have a web editorial chart
You need to have a web editorial chart (I am assuming you have more than one contributor).
Set a standard tone for all your contents and it should be followed by all writers. Maintain that defined style as universal.
Make a chart of publishing schedule. Publish contents regularly following that chart. Your audience will get accustomed with your content publishing style.
Also Read : Things not to do when starting a blog
4. Keep it concise, avoid web jargon
Do not use lots of jargons. Better cater your readers with simple and understandable content.
For SEO optimized content your article should be concise. Adapt a writing style that is impactful on the readers. To write well you need to read good.
Read a lot and you will gradually write well too. Readers on internet got numerous options to choose from.
Define the reason, why they should read your content? Once you know why, start delivering it on black and white.
As I said earlier use simple vocabulary. Don't be the Shashi Tharoor of internet. He (Sashi Tharoor) delivers excellent English sentences which generally are full of informations. But only people with good knowledge of the language understand what he wants to convey.
Make an appropriate Title for your article and start writing.
Suggested Read : What Is the Purpose of a Newsletter?
5. Write for SEO
While writing for web we need to consider SEO. It will make your content visible to search engines and help in ranking. Moreover, it will help your audience to find it.
Pick your keywords carefully. Research well to consider user intent, difficulty and your purpose of writing.
Regularly post good content and keep practicing to write regularly. Optimize your content on regular interval to update old articles. It will impact your SEO positively.
Take time to design a good landing page. Your landing page should have a glimpse of what to expect from it. Your website as well as your landing page should be easy to navigate and easy to find staffs.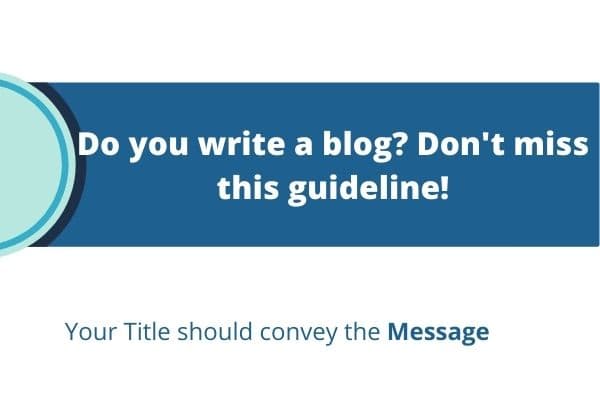 6. Where to put Key information – copywriting rules
We look at the face of people right? Your audience looks at the face of your content.
Put key informations on the face of your article. Choose a catchy Heading / Title for your article. Not a misguiding one.
One of the golden copywriting rules – put your key information in the beginning of your article. First paragraph should content summary of the informations you are going to produce.
This will ensure user engagement. Your audience will be happy to find it what they are looking for.
Will it be pleasant to reach middle of the article and finding out it is not about what the user is looking for? No. So keep that in mind.
A well structured piece of content satisfies the users and the search engines also. It will increase your click through rate and ranking.
Train your mind to make a good format / flow of furnishing information step by step like a flowchart.
You can do this by practicing more and more. Write every day. You will soon overcome constraints and make you a good content writer.
7. Write short and simple sentences
Write short and simple sentences. It is easy to read and understand.
Do not frighten your audience with wall of texts. Do not make them visit your website and run away. Always use short paragraphs.
Keep adequate space between paragraphs / sections (we call it breathing space).
Create internal links to connect related topics inside the website. It will create opportunities for the search engines to understand your content better. Also, the users will find it useful.
8. Personalize the information according to your target audiences
Classify your content for personalized experience. You should have related information in place, so audience can find them. This is the law of proximity.
Do not leave related information untouched. It should be a web of information to retain users inside your website.
9. Make your website lively
Try to increase user involvement. Don't leave your website dull. Use lots of appropriate images, infographics and animations if required.
Create a discussion forum, publish regular updates. You should publish contents in social media pages as well. It increases engagement and better ranking.
Create a strategy to publish contents on Facebook, Pinterest, Instagram and Twitter. If you have a YouTube channel, nothing can be better than that.
10. Watch out for spelling mistakes!
Always maintain your spelling standards.
It is nice to see short and funky words in social media, modern SMS language but they are not for your content.
Using such broken / shortened words may distract your visitors and slowly you may see decrease in visitors.
Always proofread your content.
Remember these 10 golden copywriting rules. If you need any help in your content writing do not hesitate to take help from writers.digitalming.com.